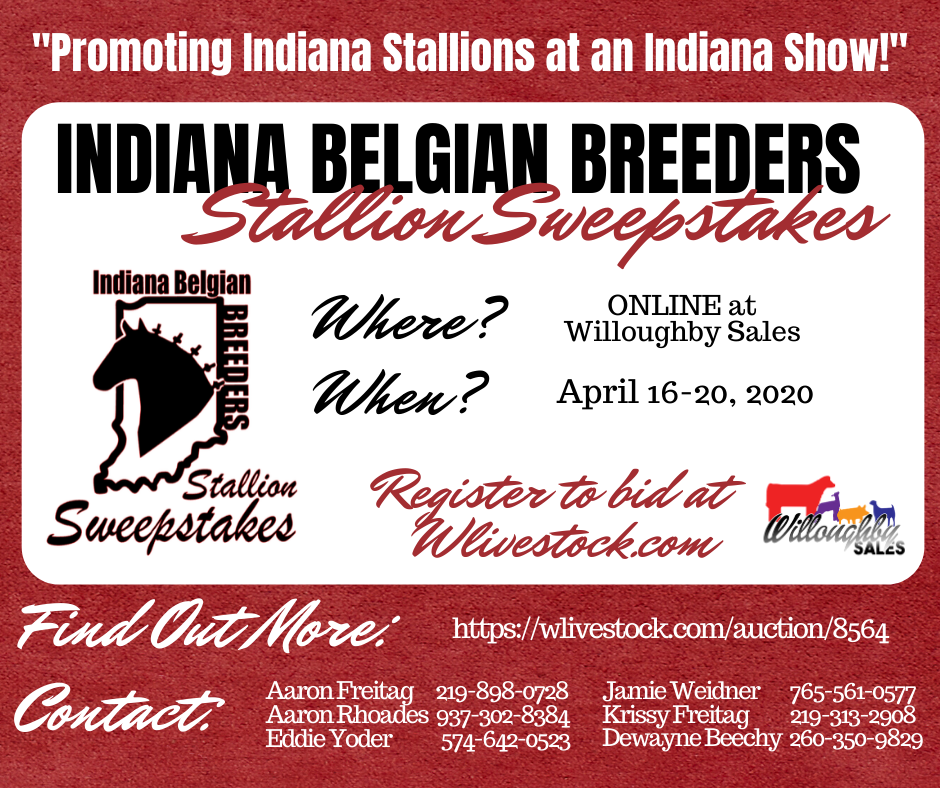 The 2020 Indiana Belgian Breeders Stallion Sweepstakes will give Indiana breeders a place to promote their Indiana Stallions and have their nominated offspring participate in a weanling halter class at the LaPorte County Draft Horse show in September of 2021 with a chance to win a large payout.
We are inviting all Indiana Belgian Draft Horse Association members' stallion(s) and club members whose stallion(s) stand in Indiana to enter their stallion(s) in this event. The forms are posted on this page as well as the website.
Please contact a committee member(s): Dewayne Beechy, Aaron Freitag, Eddie Yoder, Krissy Freitag, Jamie Weidner, Aaron Rhoades for any information on this program!! To those stallion owners who have already entered, we thank you, and we will be posting the stallion information soon!!
We are also inviting ALL Belgian Breeders to participate in the program. Anyone is eligible to purchase the services and show the offspring at the the show. The money from the services is split between the club and payout to the stallion owners and exhibitor.

The Stallion Sweepstakes Auction will now be held online from Thursday, April 16 7am. through Monday, April 20th at 7pm. You can find the information on registering to bid and the online auction site below.